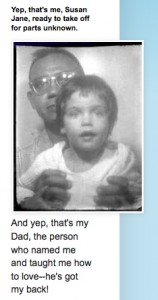 In the way that one thing evolves into another, I'm not renewing my url for Susan Jane's Journey but rather merging it into my new website and blog glob.
She was a good friend as I traveled to Asia and Europe in 2011 and 12. : ) Good times were certainly had by all.
The journey's continuing, but now as Sj's this and that. I see it as a culling down into the essentials. The essentials of who I am, Sj. And also, when you see the site, you'll see that it has all that I am, as in all of my names. The personal tags that tell the world who I am.
But does that really say who I am? No, those are just labels. To find out who I am, and who everyone else is, we need to read between the lines. See the unsaid. Listen to the unshown. That's where all the tasty nibbles lie, in the silence.
Like a good friend of mine said last week, silence can be very, very loud. Shrill even. Or peaceful. It's as varied as we all are.
I invite you to join me on the journey. Or not. I'm going regardless. I enjoy the surprise of seeing what I bump into along the way. I especially like the bumps which turn into giggles and smiles. Even that bump in Railay, where I stubbed my toe, brought an unexpected surprise — one of my favorite days during that trip.
So, what are we waiting for? Let's go!